PHLOW offers complete Meaningful Watershed Educational Experiences (MWEE)
What is a MWEE?
MWEE includes classroom education, student-led investigation, scientific debate, consensus building, and hands-on conservation action. Since 2006, PHLOW has been providing educational resources, teaching assistance, materials, and design/installation guidance so schools can install watershed conservation Best Management Practices (BMP's) on their campuses.
Students are learning by doing and leading by example to protect rivers and watersheds using science and education. Thousands of students, from dozens of schools, in MD, VA, and WV, are taking real-world action to reduce stormwater runoff pollution.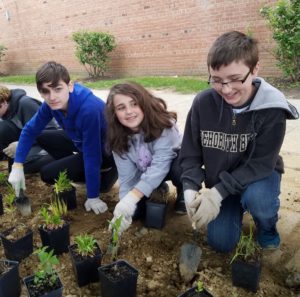 15 minute video introduction to Enviro-Ed opportunities in WV's Eastern Panhandle.
How can my school apply?
Cacapon Institute currently offers three MWEEs that teachers can apply for including Grow a Garden, Plant a Tree, and Growing Native. You may also apply for our General Maintenance or General Education programs. View our program guidelines and complete a short application below. Click the links to the right to read the lesson plans.