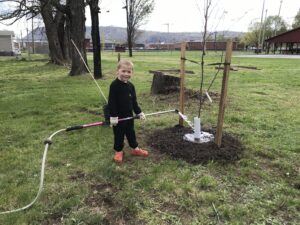 "The best time to plant a tree is yesterday!"
Start your project today.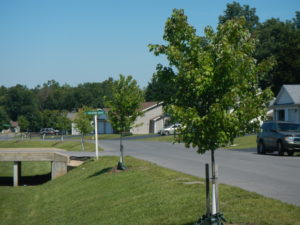 Trees for private lands at low cost
How it works:
A leader in the community/group makes a Proposal and organizes six to twelve people to purchase trees.
The group orders trees and pays online.
The group picks up their trees from Cacapon Institute and transports them to their community.
Cacapon Institute provides a tree planting demonstration.
In exchange for low-cost trees, Tree Recipients take a five minute survey to report their planting.
Annually, for 3-5 years, Tree Recipients respond to a five-minute survey to report health and survival.
Getting Started with Your Community BMP
Proposals are accepted anytime.  Cacapon Institute staff will work with you to ensure a successful project.  Groups/communities include businesses, educational institutions, faith-based groups, government agencies, homeowner associations/neighborhoods, social clubs, and watershed associations.  Deadlines are seasonal:  February 1st for spring,  July 1st for fall.
Learn more about this program here:  YourBMP Guidelines
The list of available trees changes each season but and example of common species is here:  Example Tree List
For more information call Cacapon Institute at 304-258-8013 or email bmp@cacaponinstitute.org