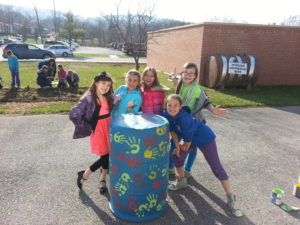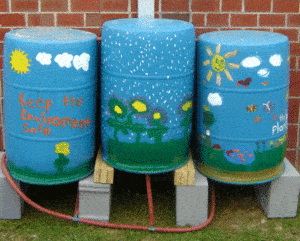 Conserve water! Stop errosion! Organize a group for a Rain Barrel Workshop!
BMP – Best Management Practice – Rain Barrels are a BMP for river protection.
Did you know lawn and garden watering can take up nearly 40% of total household water use during the summer?  According to the River Network, one rain barrel conserves upto 1,050 gal. per year!  That can mean less cost to you or less draw from your well during the hottest months.  A well placed barrel will allow watering of a garden space without reliance on home plumbing.  That means you can collect and use water by an outbuilding that does not have plumbing or even electric.
The Institute does not sell individual barrels.  Groups must organize for a class.  10-20 people for 15-40 barrels is ideal – when we can find the barrels at all.
Cacapon Institute hosts public rain barrel workshops when we have a supply of barrels.  The workshop typically run from 10:00am – 12:00pm where attendees will build their own 55-gallon rain barrel from a recycled barrel.  We share tips on how and where to properly install and use it.  Cost-share is dependent on the market price of barrels but runs around $35 for one rain barrel and $60 for a double tank.  Cost-share means, in exchange for participating in the workshop and agreeing to take a BMP survey, the class participants pay half the real cost of the barrel.  The WVDEP Chesapeake Bay Program and Cacapon Institute cover the rest.  Your BMP will help everyone downstream so it is worth the public investment.
If you are interested in forming a group, please call Cacapon Institute at 304-258-8013 or email bmp@cacaponinstitute.org.  It takes between three to eight weeks to procure and distribute barrels.
Please call our office if you would like to organize a group training in the Potomac River Basin of West Virginia (Berkeley, Grant, Hampshire, Hardy, Jefferson, Mineral, Morgan, and Pendleton counties)