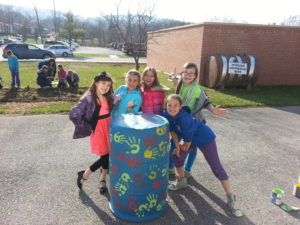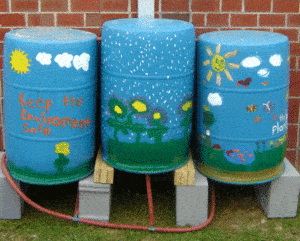 Conserve water! Protect our Bay! Sign up for a Rain Barrel Workshop!
Did you know lawn and garden watering make up nearly 40% of total household water use during the summer? Capturing rainwater will help protect your lawn and garden during periods of drought, and it will also help you save money! One rain barrel can conserve approximately 1,050 gallons per year!
Cacapon Institute hosts public rain barrel workshops when we have a supply of barrels.  The workshop typically run from 10:00am – 12:00pm where attendees will build their own 55-gallon rain barrel from a recycled food grade plastic drum.  We share tips on how and where to properly install and use it.  Cost is dependent on the market price of barrels but runs around $35 for one rain barrel and $50 for a double tank.  Please register below if you are interested and we will contact you next time we schedule a workshop.
Cacapon Institute at 304-258-8013 or email ci@cacaponinstitute.org
Sorry.  We do not have any classes planned at this time.  Please call our office if you would like to organize a group training.  (Berkeley, Grant, Hampshire, Hardy, Jefferson, Mineral, Morgan, and Pendleton counties of West Virginia.)